Holiday Lodge
One Night stay in a themed room

1221 East Main Street 273-4406. One night stay include Continental breakfast and each room comes with a microwave, refrigerator and coffee maker. Themed rooms include the Lola Montez Room, Teddy Bear Room, River Room, Colonial Room, High Sierra, Wells Fargo and many more!

Limitation: one coupon per stay, pool is seasonal, no cash value

Holiday Lodge
1221 East Main Street
Grass Valley, CA 95945
530-273-4406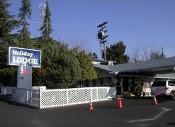 View Larger Image
Retail Price : $99.00
Buy It Now Price: $55.00

SOLD OUT!