Current Time: 12:37 CDT

Back to KHTS-AM

Please Sign In Forgot Password?
Problems signing in?
---
Visiting for the first time?
Search
View All Businesses
View All Items
View All Items Short List

---
Shop the Auction:
Return to Homepage

Restaurants
Services
Shops


The BEST way to save in the Santa Clarita Valley!
Purchase certificates for your favorite local Santa Clarita restaurants and MUCH MORE for only half price!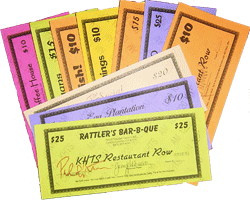 What's the catch? There is none! KHTS has partnered with the finest restaurants in Santa Clarita 
(and a select few other Santa Clarita businesses). They're looking for new customers, like you!

We promote their restaurant or business with radio commercials and give you the opportunity to experience a quality products and services at half price. 

It's pretty simple. Look through our list of participating Santa Clarita restaurants and businesses.


Click here to check out all the items available on ShopKHTS.com




Click here to go to the AM-1220 KHTS website
Featured Items ...